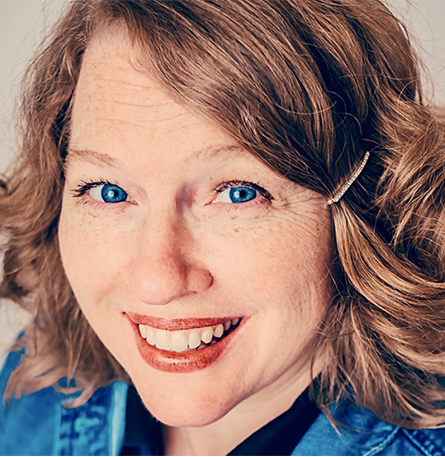 Katherine Center
BIO: Katherine Center is a novelist—the author of five bittersweet comic novels about love and family, including The Bright Side of Disaster, The Lost Husband, and Happiness for Beginners. Her work has appeared in Vanity Fair, The Atlantic, Redbook, InStyle, People, USA Today, Real Simple and others, as well as several anthologies.
People magazine calls The Bright Side of Disaster "cleverly told and uncommonly appealing," and The Dallas Morning News calls Katherine's novels "satisfying in the most soul-nourishing way."
Katherine's newest novel, Happiness for Beginners, was a Book Club Pick for InStyle and a Target Emerging Authors pick. BookPage named Katherine a new writer to watch, the Houston Press listed her as a Top Ten writer in the city, and Instant Pictures recently optioned The Lost Husband for a movie.
Katherine's has won many awards and fellowships for her work, and her novels have been published in translation in all over the world. Katherine just finished her sixth novel, which goes on sale in January of 2018. She lives in her hometown of Houston, Texas, with her husband, two children, and fluffy dog.
Katherine loves to speak about writing, and reading, and why stories matter. She is especially interested in sharing how we can all tell the best possible stories of our lives.
SPEECH TOPICS:
WHY A GREAT STORY CAN MAKE ALL THE DIFFERENCE IN BUSINESS Humans are wired to love stories. They are our best way of learning and our favorite form of entertainment. We go to nonfiction to learn things, but we turn to stories to feel things. Stories take us on journeys of the imagination—and bring us back changed. They are an indescribably powerful tool for connecting us to others, and influencing and inspiring us. Especially since research indicates that the majority of all decisions are emotional decisions. We can weigh the pros and cons in our heads, but when the time comes to make any decision, it always comes down to "a feeling" in our hearts. Stories can access those hearts. In business, a good story can mean the difference between customers that care and ones that don't; teams that are passionate, and ones that aren't; a vision that matters, and one that doesn't. A good story can create profound bonds between the storyteller and the audience. Katherine Center, author of six novels, shares her knowledge about how stories work—and how to tell a great one.
YOUR LIFE IS A STORY "What you notice is what you remember, what you remember is what you hold onto, and what you hold onto becomes the story of your life." Novelist Katherine Center talks about how we tell the stories of our lives, saying the details matter as much as the overall narrative. Our stories tell us who we are and where we're going. If we can change our stories, we can change our lives. Writers know that the heart of any story is in its details, and so telling our best stories is all about choosing the best details—ones that can inspire us and encourage us, ones that can remind us of life's beauties and joys when times are hard, ones that can give us hope for the future. How you tell your story matters. It's a simple idea, but it changes everything. People who are able to pull something good from life's struggles and hardships are better adjusted and happier. We frame the stories of our lives in many different ways, and some stories really are better than others. We live our lives in moments—and build our stories out of them.